WILLIAM TRINE LAW FELLOWSHIP
The William Trine Law Fellowship was established to honor Human Rights Defense Center board member Bill Trine, a nationally renowned trial lawyer, author and teacher, who spent his 55 years as a trial lawyer representing people seeking justice for violations of their civil rights, and for injuries and deaths caused by corporate and governmental abuse and wrongdoing.
Bill is a past president and founder of Trial Lawyers for Public Justice (TLPJ), a public interest law firm headquartered in Washington, D.C., and a past president of the Colorado Trial Lawyers Association. He was honored with the first Norm Kripke Lifetime Achievement Award in 1996 and with the Access to Justice Award in 2014. He is co-author of the best-selling book, Winning Medical Negligence Cases, and the author of more than 75 published articles. Bill retired in 2014, but continues to write and teach.
---
TRINE LAW FELLOWS
2017-present: Masimba Mutamba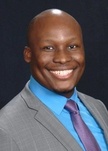 Masimba Mutamba is HRDC's inaugural William A. Trine fellow and an HRDC staff attorney who works on civil rights matters. Masimba graduated magna cum laude from the University of Miami School of Law, where he was an associate editor of the University of Miami International & Comparative Law Review. Masimba also obtained a Master of Laws (LLM) degree in International Law, with distinction, from the University of Glasgow in Scotland.
Prior to joining HRDC, Masimba litigated complex real estate cases at the trial and appellate level on behalf of Fortune 500 financial institutions. Furthermore, Masimba represented individuals against municipal police departments in civil rights actions and represented the rights of a student in an administrative proceeding against a school board under the Individuals with Disabilities Education Act (IDEA) and the Americans with Disabilities Act (ADA). He also previously worked at a full-service immigration law firm representing clients across the country in federal court lawsuits and appeals against the U.S. Department of Homeland Security (DHS) and its subordinate agencies, the U.S. Citizenship and Immigration Service (USCIS) and U.S. Immigration and Customs Enforcement (ICE).
Masimba is licensed to practice law in the State of Florida and is admitted, among other federal district and circuit courts, to the Supreme Court of the United States. He is a Florida Bar Delegate to the American Bar Association House of Delegates, a representative on the Florida Bar Young Lawyers Division Board of Governors, and is an appointed member of the Florida Bar's Standing Committee on Media & Communications Law. In his local community, Masimba is actively involved in the F. Malcolm Cunningham, Sr. Bar Association, the Palm Beach County Bar Association's standing Committee for Diversity and Inclusion, and that Bar's Young Lawyers Section.
As a William Trine Law Fellow, Masimba has appeared in anti-censorship cases that protect the rights of prisoners to freely communicate and maintain access to reading materials.
To date, Masimba has appeared in:
HRDC v. Marshall County, et al., No. 1:19-cv-00031 (M.D. Tenn. 2019);
Prison Legal News v. Sec'y, Fla. Dept. of Corrs., No. 18-355 (2018);
Brown v. Stored Value Cards, Inc., et al., No. 18-35735 (9th Cir. 2018);
HRDC v. Forest Cnty, et al., No. 2:18-cv-00184 (S.D. Miss. 2018);
Lorine Gaines v. Jones, et al., No. 4:18-cv-00367 (N.D. Fla. 2018);
HRDC v. Corizon Health, Inc., No. 2018 CA 009487 (Fla. 15th Cir. Ct. 2018);
H.C., a minor v. Bradshaw, et al., No. 9:18-cv-80810 (S.D. Fla. 2018);
HRDC v. Lewis Hatcher, et al., No. 7:17-cv-00614 (E.D.N.C. 2017);
HRDC v. Rodney Ballard, et al., No. 3:17-cv-00057 (E.D. Ky. 2017);
HRDC v. County of Los Angeles, et al., No. 2:17-cv-04883 (C.D. Cal. 2017);
HRDC v. Baxter County, et al., No. 3:17-cv-03070 (W.D. Ark. 2017);
PLN v. Management & Training Corp., et al., No. 2:16-cv-01174 (D.N.M. 2016);
HRDC v. San Miguel Cnty, et al., No. 1:18-cv-00355 (D.N.M. 2018);
HRDC v. Santa Fe Cnty, et al.,No. 1:18-cv-00305 (D.N.M. 2018);
HRDC v. Sw Virginia Reg. Jail Auth., et al., No. 1:18-cv-00013 (W.D. Va. 2018);
HRDC v. John Baldwin, et al., No. 1:18-cv-01136 (N.D. Ill. 2018);
Joe Rudy Reyes v. JPay, Inc., et al., 2:18-cv-00315 (C.D. Cal. 2018);
Jeffrey Reichert v. Keefe Commissary Network, LLC, et al., No. 3:17-cv-05848 (W.D. Wa. 2017);
HRDC v. Greene Cnty., et al., No. 1:17-cv-00730 (S.D. Ohio 2017);
HRDC v. Union Cnty., et al., No. 1:17-cv-01064 (W.D. Ark. 2017);
PLN v. Federal Bureau of Prisons, No. 1:15-cv-02184 (D. Colo. 2015);
PLN v. Nw Reg. Jail Auth., et al., No. 5:15-cv-00061 (W.D. Va. 2015); and
PLN v. Charles L. Ryan, et al., No. 2:15-cv-02245 (D. Ariz. 2015).
---
SUPPORT
The William Trine Law Fellowship receives support from foundations, law firms and individuals. This support safeguards civil and human rights across the country; HRDC sincerely thanks the donors who support this fellowship and have made possible the work of its fellows.
If you are interested in supporting the William Trine Law Fellowship, please contact HRDC's Development Coordinator, Michelle Dillon:
---
RECENT PUBLICATIONS BY BILL TRINE:
A Broken Criminal Justice System and Prisons for Profit
---
The Genesis of Increasing Police Brutality
---
Recognizing and Countering Implicit Bias
---
Ways in Which Trial Lawyers Make a Difference